Region 3 – Central & Eastern District
| | | |
| --- | --- | --- |
| IPA Region 3 Chairperson | Ross Pinkham | ipanz.region3@gmail.com |
| IPA Region 3 Secretary | Marlene Merriman | ipanz.travel.secretary@gmail.com |
| IPA Region 3 Treasurer | Marlene Merriman | ipanz.travel.secretary@gmail.com |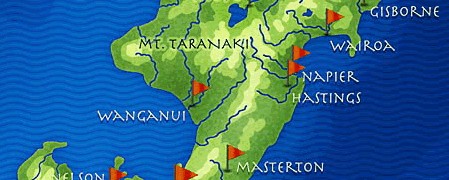 Region 3, IPA New Zealand section, includes the Central and Eastern Districts (North Island, New Zealand).
We are blessed to have some of New Zealand's most spectacular tourist attractions, which attracts tourist from all over the world to visit us. Region 3 is a vast area and it will take time to discover everything, so plan carefully.
Some samples of our attractions:
New Plymouth: with the famous Mt Egmont/Taranaki National Park with its scenic walks and climbs, trout fishing from the many mountain rivers, and well-known coastal walkway, with impressive views. Pukekura Park and the coastal walkways are right in the center of New Plymouth so you don't have to travel far to enjoy what we have.
Wanganui: an early historic settlement for European settlers and is on the edge of the historic Whanganui River that is steeped in Māori history and culture, why not enjoy a river cruise or head out to the coast for magical views and walks.
Palmerston North: the proud owners of the National New Zealand Rugby Museum and the center of the biggest wind turbine farm in New Zealand, clearly seen on the Ranges behind the City.
The Hawkes Bay (Napier and Hastings): this is one of the main wine-growing regions in New Zealand. Most vineyards offer tours and sampling of their wines. You can head to Cape Kidnappers Bird sanctuary at Havelock North, take in the Napier Art Deco buildings, climb Te Mata Peak in Hastings or simply relax on the beaches.
These are just a few attractions that our region can offer, so come on down and visit us.
With over 100 IPA members scattered across our region, we are looking forward to inviting new members into our fold. It matters little if you are a current serving member, retired or resigned member of the NZ Police, or a retired overseas Police member.
Region 3 is active socially as a group. We have over 100 active members, so why not join us, it's easy.
Contact details for our Regional Officers are available on the individual region pages. Our National Officer's contact details are available on the National Officers page. You can also use the Contact Us page form to get in contact with our national team.
If you want to join the IPA, please use the Join IPA page form.