Region 4 – Wellington District
| | | |
| --- | --- | --- |
| IPA Region 4 Chairperson | Diane Limbrey | ipanz.region4@gmail.com |
| IPA Region 4 Secretary | Anna Jackson Onzm | ipanz.region4@gmail.com |
| IPA Region 4 Treasurer | Anna Jackson Onzm | ipanz.region4@gmail.com |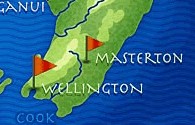 Region 4, IPA New Zealand section, includes as far east as the Wairarapa and north to the Kapiti Coast. The area is home to Police National Headquarters, and the Royal New Zealand Police College, and is the central base of many specialist Police Services including Interpol, Protection Services, National Dive Squad, Special Tactics Group and many others.
The Region is strategically placed in the center of New Zealand and hosts a number of overseas visitors traveling between the two islands.
Region 4 currently has about 162 active members, which includes both operational and retired members, we also host regular IPA National Executive meetings, and socially the highlight of the year is the annual Christmas Social.
Region 4 supports members applying for the many opportunities IPA have to offer including The Arthur Troop Scholarship, International Youth Gathering, and Serving Officer events.
Membership applications are welcomed and encouraged to ensure IPA continues to grow.
Contact details for our Regional Officers are available on the individual region pages. Our National Officer's contact details are available on the National Officers page. You can also use the Contact Us page form to get in contact with our national team.
If you want to join the IPA, please use the Join IPA page form.